KHAKY Country Fair and Fun Walk, Danville, KY
Walkers & Fundraisers Register Here
Walkers and Fundraisers Register Here. 5k Participants register at runsignup.com Please note that effective July 1, 2018, the state of Kentucky is now requiring us to charge sales tax on registrations and purchases. The 6% sales tax has been added to the total price below.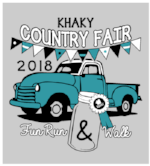 Join us Sunday afternoon,Sept 30, 1:30-5PM, at Millennium Park in Danville, KY. A timed 5k, 2k Fun Run/Walk all in a Country Fair atmosphere complete with bake sale, games for all ages, inflatables, pony rides, petting zoo,music and more. Come to run in the 5k or walk in our 2k Fun Walk and spend the afternoon with us! Or, bring a chair or a blanket and just come and enjoy the fun! Check in will begin at 1:30 for all run and walk participants and the run will begin at 2PM (walkers soon after).
Want to do more than just enjoy a Sunday afternoon run or walk? Become a Grassroots KHAKY Fundraiser. Simply request a KHAKY Fundraising kit. Get to work asking friends and family members to support your participation in the walk. Hold your own car wash, lemonade stand, or other event to raise additional money. The top fundraiser will win a very special prize! Want to head up a team of fundraisers? You can do that too. Register your team with KHAKY and any online or mailed donations with your team name included will be added to your team's total. The top fundraising team will also be recognized and awarded a prize.